Metal cabinet – Locker – DRAWER
Availability: In Stock
Metal cabinet – Locker – DRAWER
Robust, the Locker metal cabinet houses a wardrobe, 3 shelves and 2 drawers and is a piece of furniture with lots of character to store everything you need. Designed in this way, it maximizes storage space without taking up too much space.
On the decorative side, the Locker metal cabinet brings a very trendy vintage spirit. Placed in the bedroom, it catches the eye and alone sets the tone of the room. But, to play the cloakroom card 100%, it is installed at the entrance to accommodate the clothes, shoes and documents for the whole family. In short, the possibilities are endless.
Product dimensions:
Width: 90 cm
Height: 190 cm
Depth: 50 cm.
Product Specification :
Base Material: Metal
Top Material: Metal
Product Finish : Grey
Product Dimension :
Product Category : Storage Unit
Compare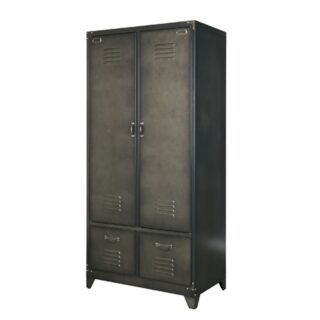 Metal cabinet – Locker – DRAWER